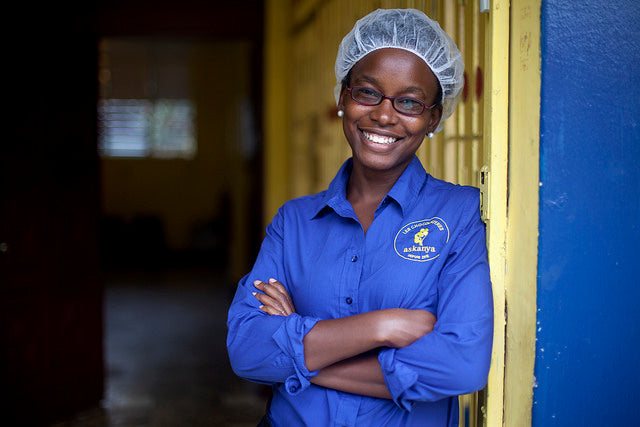 Meet our Founder: Corinne Is a Proud Haitian, Visionary and Founder at Askanya Chocolates
Since the age of 14, Corinne has been on a mission to give back to her home. Growing up in Haiti, a desire grew in her to help people struggling to support their families. 
After Corinne graduated high school at 16, she headed to the US for college. Corinne undertook a Bachelor of Sciences in Industrial and Operations Engineering from the University of Michigan. Her career journey spans across several industries including engineering, technology, pharmaceutical and beauty. 
Later, Corinne earned her Masters in Business Administration (MBA) from the Wharton School of Business at the University of Pennsylvania. Armed with her MBA and determination, Corinne moved forward to make Askanya Chocolates a reality. She did every job you could think of - from capital raising, HR and getting involved in the chocolate-making process!
"Growing up in Haiti, I was aware of the poverty and lack of financial opportunities many people around me were dealing with. As a teenager, I was already resolved not to just do charity, but to create jobs."
Corinne
Our Journey so Far
Corinne makes plans to start a business in Haiti

The business tackles three main points:

Create stable revenue for local farmers in Haiti
Generate blue collar jobs in the local community 
Bring prosperity to remote countryside areas outside of Port-au-Prince 

Corinne starts research into different Haitian crops including mangoes, oranges and cacao. To her surprise, she finds that Haitian cacao is well-regarded in the global market. But the wages farmers get paid aren't enough to live on. 
The first team starts to take shape

Corinne converts her grandparents' home into a colorful chocolate factory. Our first base is in Ouanaminthe, North-East Haiti. The small town is a recent commercial hub thanks to its border with the Dominican Republic. This seems like a good place to start.  

The next step is hiring a consultant to advise her on the best equipment to buy for chocolate making. Corinne reaches out to consult with world-class chocolatiers from France and the USA. The international team comes to Haiti to train hard to perfect their bean-to bar chocolate making processes. 

Partnering with local farmers for our high quality cacao beans 

At first, Corinne sources pre-fermented and dried cacao from the Fédération des Coopératives Cacaoyères du Nord (FECANNO) who employ Haitian farmers. FECANNO teaches farmers how to grow high quality cacao beans and pays their farmers a real living wage. 

Then, Corinne goes the extra mile. She visits cacao farms and meets with local farmers face-to-face. Corinne starts sourcing wet beans straight from a group of 500 farmers, in addition to working with 3,000 farmers from FECANNO. 

Askanya Chocolates becomes a reality 

The branding journey begins with a graphic designer and marketing firm on board to create our beautiful logo and packaging designs. 

After much brainstorming, the company "Askanya Chocolates" was born. There's a sweeter love story behind the name. Corinne's husband and co-founder is from a hometown in Aschersleben, Germany. The town's Latinized name is "Ascania". 

Guess what? The name Ascania dates back to a legendary King Ascanius, in Roman mythology. In the same way, Corinne hopes Askanya reigns as the Queen of Caribbean Chocolate. 

With that, the first two flavors are launched: Minuit dark chocolate and Paradis milk chocolate bars on our Haitian online store. 
Launching in stores across Haiti and the USA 

Corinne and her team build their brand presence in the chocolate industry. They set up stalls at chocolate festivals and Christmas markets in Haiti and the USA. 

Hard work pays off. Askanya Chocolates is stocked in 30 stores in Haiti and launches in its first 5 stores in the USA. Our third chocolate bar flavor, Wanga Nègès, made with delicious Rapadou (artisanal cane sugar) is added to our Haitian shop. 

The wet cacao beans Askanya Chocolates bought are used for making our Haitian chocolate. We export the rest to chocolate makers in the USA and Canada who can't get enough of our high quality cacao. 
It's a winning year for Askanya Chocolates

We won the Sustainability Prize at the NW Chocolate Festival in 2017. Not to mention the cacao beans we bought, fermented and dried won the top 50 prize at the Cacao Excellence Award during the Salon du Chocolat in Paris (2017).
We expand into the chocolate wholesale market

Our website has a stunning makeover on Shopify and we partner with Faire to launch our wholesale business. We introduce our extra dark Perle Rare chocolate bar to our shop. It's a hit at our in-person events including: the Northwest Chocolate Festival, the Southwest Chocolate and Coffee Fest, the DC Chocolate Festival and the Chocolate and Whiskey Festival.
We go from strength to strength 

Askanya Chocolates continues to partner with retailers and wholesalers to bring you delicious Haitian chocolate.
Haitian chocolate becomes a hit with corporations 

Our corporate gifting offering takes off with clients including: Google, Postmates, Loop & Tie and Canary Marketing. 
All Askanya Chocolates flavors have arrived 

Our six flavors become popular amongst our Haitian chocolate fans. They are available in different sizes: regular, half and mini. We share our amazing chocolate all year round in the US including: the Queens Night Market, the Union Square Holiday Market and Columbus Circle Holiday Market. 

Our chocolate baking block is introduced  

We introduce chocolate blocks to make tasty desserts and our very own signature Haitian hot chocolate recipe. 
Askanya Chocolates continues to grow

Today, Corinne and her team work with over 3,000 Haitian farmers to grow high-quality cacao. Askanya's online presence has grown to over 6,000 followers on Instagram, 5,000 on Facebook and we're still growing.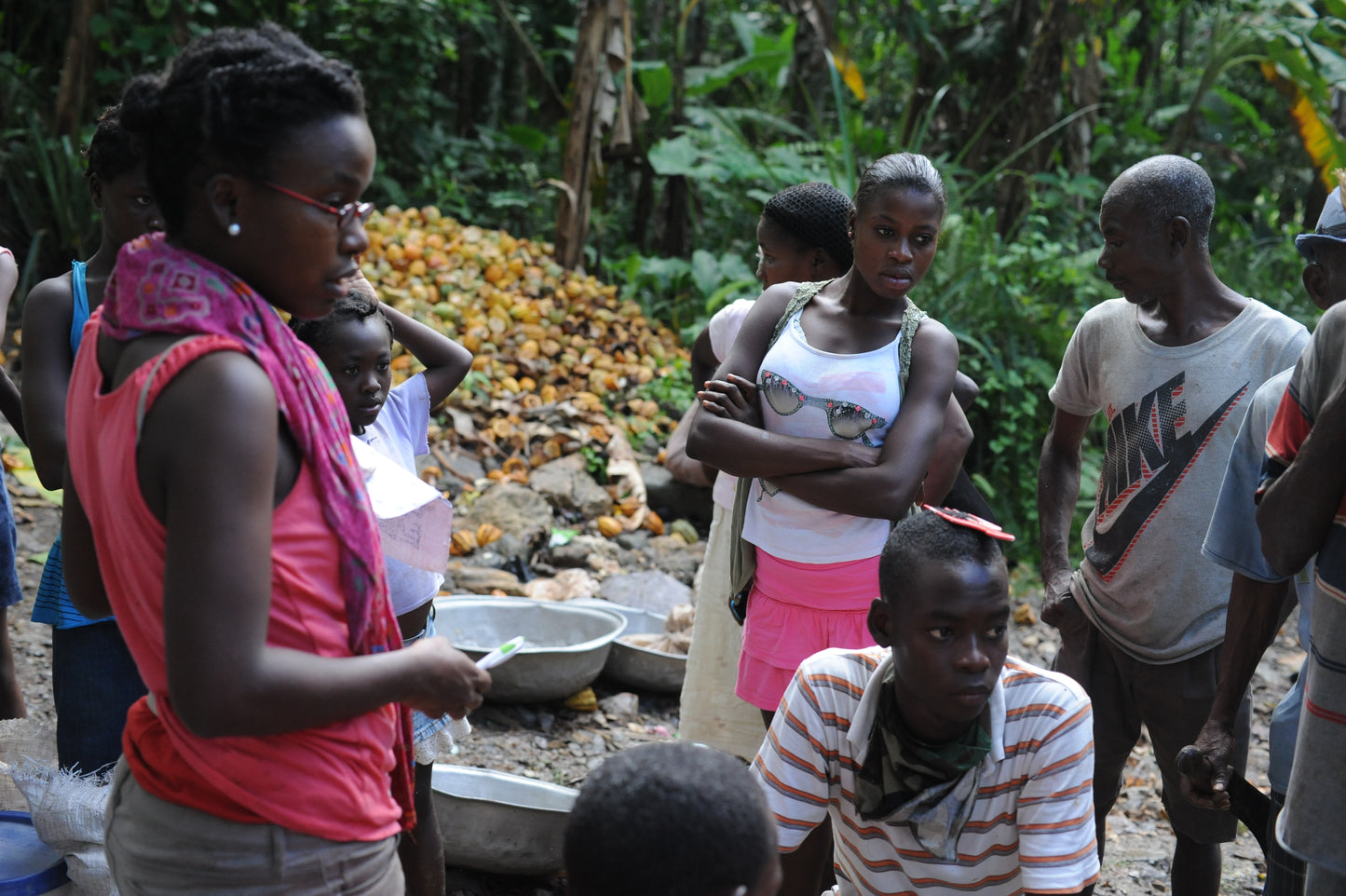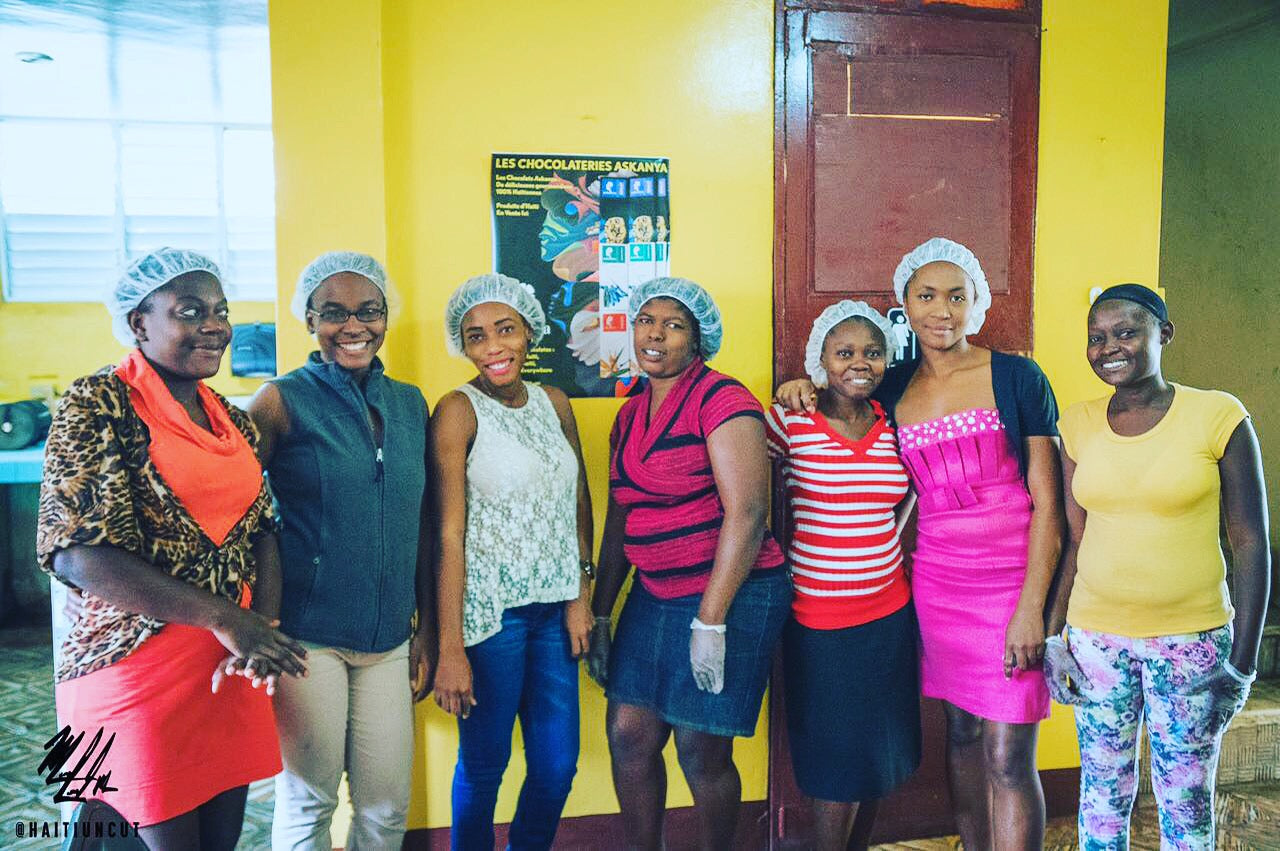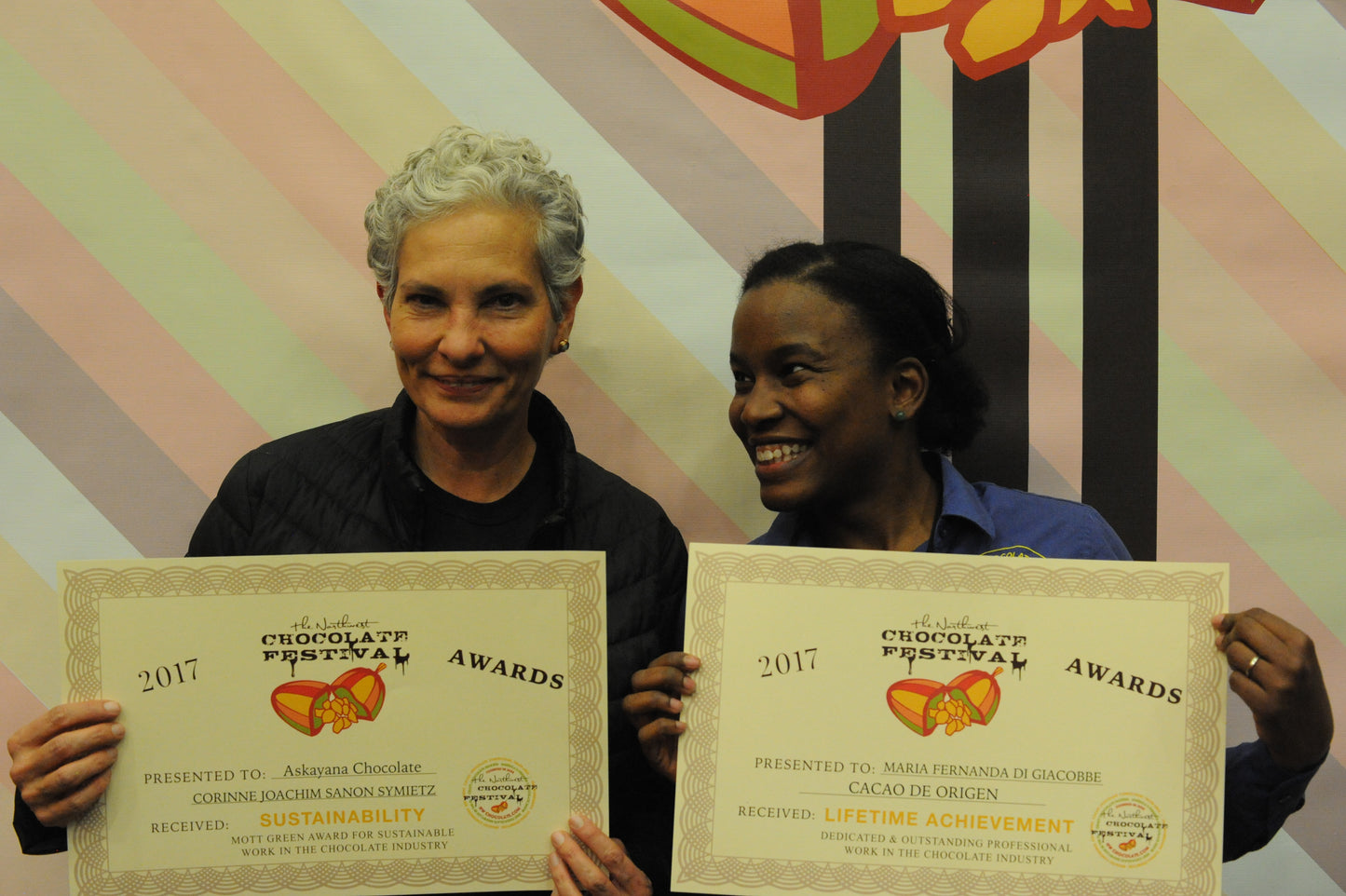 Askanya Chocolates' 5 Principles for Ethical Chocolate
You care about building a better world by making better choices. We agree and have put together our 5 principles for finding ethical and sustainable chocolate.