Planning a Wedding? Organizing a Baby Shower? Leading a Team-Building Activity? Selecting Pantry Items? Choosing Healthy Candies for your Specialty Store?
Don't look further. Our 100% natural chocolates, ethically sourced and handcrafted by Haitian women are the perfect gifts for these special occasions and the best treats for your clients.
Order directly from our online store to get quantity discounts on your bulk order. As always, free shipping on order over $65.
Wholesale options are also available via Faire.
Askanya Chocolates has the best dark chocolate, hands down. I enjoyed them all, but the dark chocolate is my favorite! I highly recommend Askanya for you and your friends. They are perfect for gift baskets, bridal showers, baby showers... anything!
LaShelle S.
Shop Our Bestselling Chocolate Bars
Shop for Your Celebrations
Congratulations
Packed with flavor and decadence, our classic trio bars feature our signature Haitian milk and dark chocolate bars for those of you who want the full experience of our Haitian chocolate. 
Shop Trio Bars
Thank You
Our chocolate bars are a delicious investment. But, maybe you want to try our flavors first. We guarantee after you try our mini chocolate bar collection, you'll be back for more.
Shop Mini Bars
Celebrations
Chocolate makes you, me and everybody happy. Gift our gourmet Haitian chocolate to your loved ones to wish them a happy birthday, celebrate a new arrival or to simply say thank you for being there.
Shop Gift Sets
These are extremely rich chocolate bars. Bought 20 of them to give to friends and the feedback has been great. Will buy some more for the next event.
Nnamdi
I tried the sampler, and the 60% was my favorite, so I was thrilled to be able to get 12 of them—so delicious and arrived so quickly.
Jean S.
Great and unique chocolate bar! Rich in flavor with all natural ingredients sourced from Haiti. Always glad to support the Haitian farmers and workers involved in the production of this delicious product!
Justin G.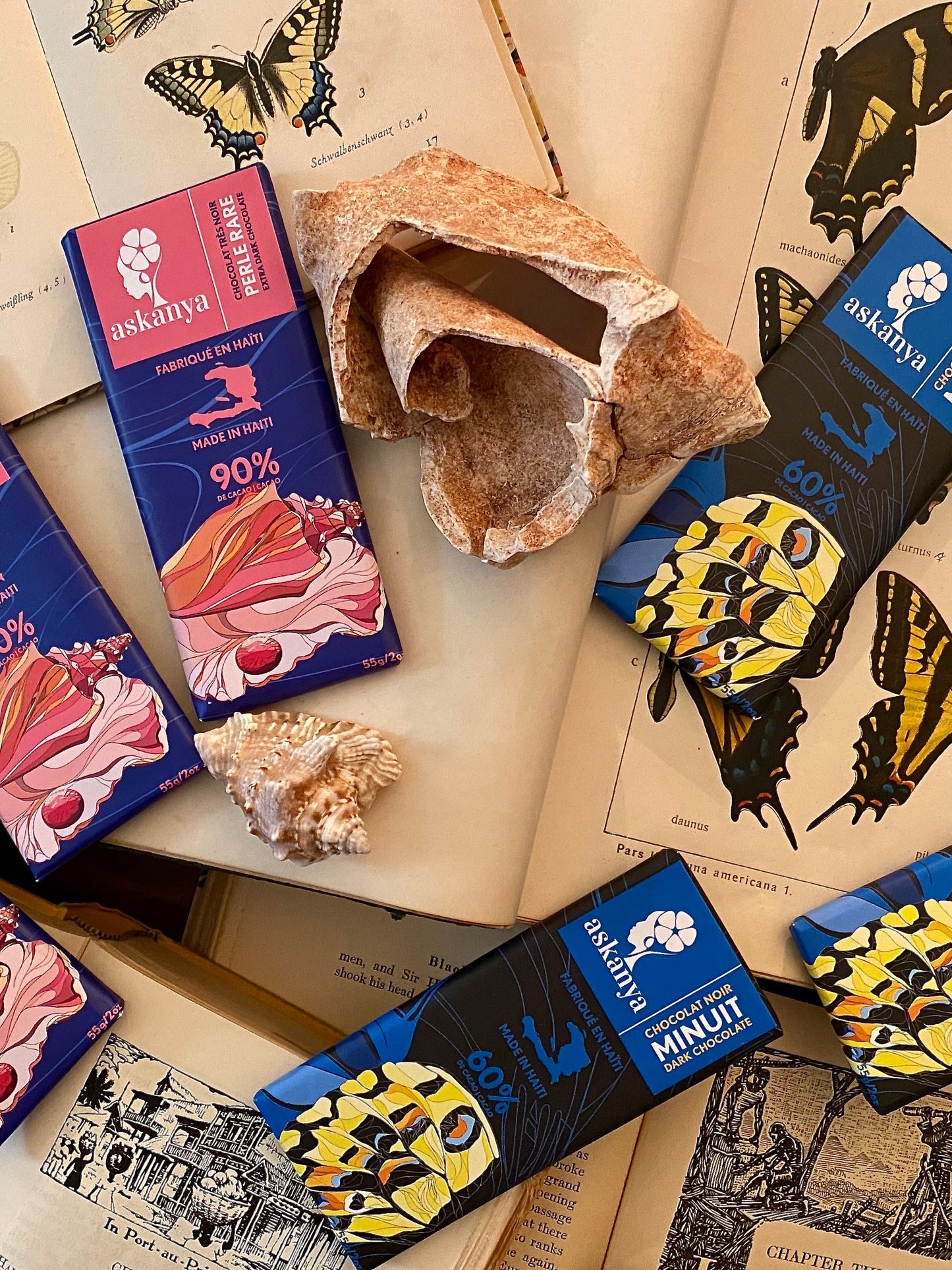 For Your Dark Chocolate Purists
Our best-selling chocolates are our rich and deep dark vegan chocolate bars. Given the nature of our Haitian cacao, we promise that our dark chocolate is delicious with fruity and vanilla notes. We recommend our 90% Perle Rare chocolate bar.
Shop Dark Vegan Chocolate
For Your Citrus Admirers
Our dark orange chocolate is sweetened with the essence of the Caribbean and our famous Rapadou (artisanal cane sugar) making our orange chocolate a fan favorite. Capture a different taste of lime for a daring new level of flavor. 
Shop Citrus Chocolate
For Your Milk Chocolate Lovers
Our Haitian milk chocolate bar brings together rich and creamy textures. Be transported to paradise with delicious chocolate and subtle hints of fruit flavors, mirroring the beautiful complexity of the island.
Shop Milk Chocolate
The chocolate is AMAZING. It's so good and I can't wait to use it for my cookies. Thanks so much for the quick turnaround.
Deez Cookies LLC (small business)
We Offer Wholesale Options Too!
Create your account on Faire. We use this trusted platform for secure payments and timely delivery.
Select your Haitian chocolate from our gourmet collection on the Faire site.
Place your order and get you delicious chocolate.
Contact Us
Have a question, or want a customized order? Get in touch.